You must have landed here because you enjoy Australian wine? Or perhaps it's that you're interested in learning more about it? Maybe you've drunk it before in the form of Yellowtail (eek), Hardy's (ugh) or Jacob's Creek (meh)!? The truth is that Australian wine is a lot different, and a lot better. And some fine examples of it are available in New York, you just need to know where to look.
Australia – that big, flat, brown but beautiful continent – is divided into six states and two territories. The greatest wines come from the states of Western Australia, South Australia (apparently creativity in state names proved elusive), New South Wales, Victoria and Tasmania.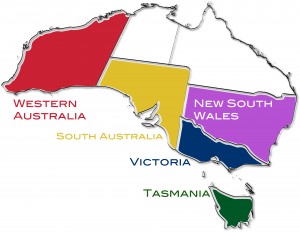 AUSTRALIAN WINE 101:
Aussie wine shows tremendous diversity and quality that can match or beat any other wine in the world. It is certainly far more tasty – and a lot more varied – than the Aussie "value wines" that are ubiquitous in New York. "Value wines" are those where you buy two bottles and still have change from the twenty-dollar bill you handed over. These "value wines" are often marked by a friendly Roo or Aboriginal painting. Indeed, one cannot judge Australian wine on brands like YellowTail (which is purely export-only)!
There are over 2,200 wineries across 164,000 hectares Australia-wide, producing 400 million gallons of wine annually from over eighty different grape varieties. Below, in exceptionally abbreviated form, are some of the most popular grapes by region & vintage. If, to copious detailed wine information, you say "bring it on", then visit Langton's wine auction house website for all you could want to know about Aussie wine regions.
Western Australia
South Australia
Adelaide Hills

Barossa Valley

Clare Valley

Coonawarra

Eden Valley
New South Wales
Hunter Valley:

 Semillon, Chardonna, Cabernet Sauvignon and Shiraz. ('03, '06, '09)
For wine AFICIONADOS (or "those with a nose"):
James Halliday, Australian wine aficionado, overviews Australian wine so beautifully that I could not do better myself.  While his terminology is replete with many fancy wine descriptions that leave us ordinary folk confused and not knowing what to say in response, for those of you who are wine aficionados yourselves, you'll definitely want to read it.
For the whites:
"Australia is able to offer fine sparkling wine from Tasmania and the coolest parts of southern Victoria and the Adelaide Hills; elegant and piercingly pure Riesling from the Clare and Eden Valleys of South Australia, Great Southern of Western Australia and Tasmania; unique un-oaked long-lived Semillon from the Hunter Valley in New South Wales, and – more international – partially barrel fermented Semillon Sauvignon Blanc blends from the Adelaide Hills and Margaret River; Chardonnay ranging from flinty, minerally, Chablis-like wines from the coolest regions in southern Victoria and Tasmania moving through degrees of richness until the Montrachet-like wines of the best Margaret River producers."
For the reds, Australia offers:
"Pinot Noir from Tasmania, southern Victoria and (less consistently perhaps) from the Adelaide Hills, which is constantly and wrongly assumed to be inferior to that of New Zealand, Oregon and Burgundy; Syrah (called Shiraz in Australia) in a magically enticing array of flavors, texture weight, alcohol and tannins, with a startling ability to reflect the terroir from which it comes, ranging from the majestic power of the Barossa and Clare Valleys, and McLaren Vale in South Australia, to the equally majestic yet very different lusciousness of Central Victoria, with Heathcote in the vanguard; thence to the continental climates (cool nights, warm days) of the Great Southern, and the Central Ranges of New South Wales, where spice, pepper and liquorice start to come alongside the rich blackberry, plum, leather, dark chocolate and earth of the warmer, less continental climates; Cabernet Sauvignon, while not quite such an inveterate and sophisticated traveler as Shiraz, flourishes in many places, none more than Coonawarra, with its Bordeaux climate replicate and – just to confuse things – a limestone-based soil similar to that of Burgundy and Champagne producing fluid, seamless, cassis, mulberry and blackcurrant wines…"